Express Home Loan – ICICI Bank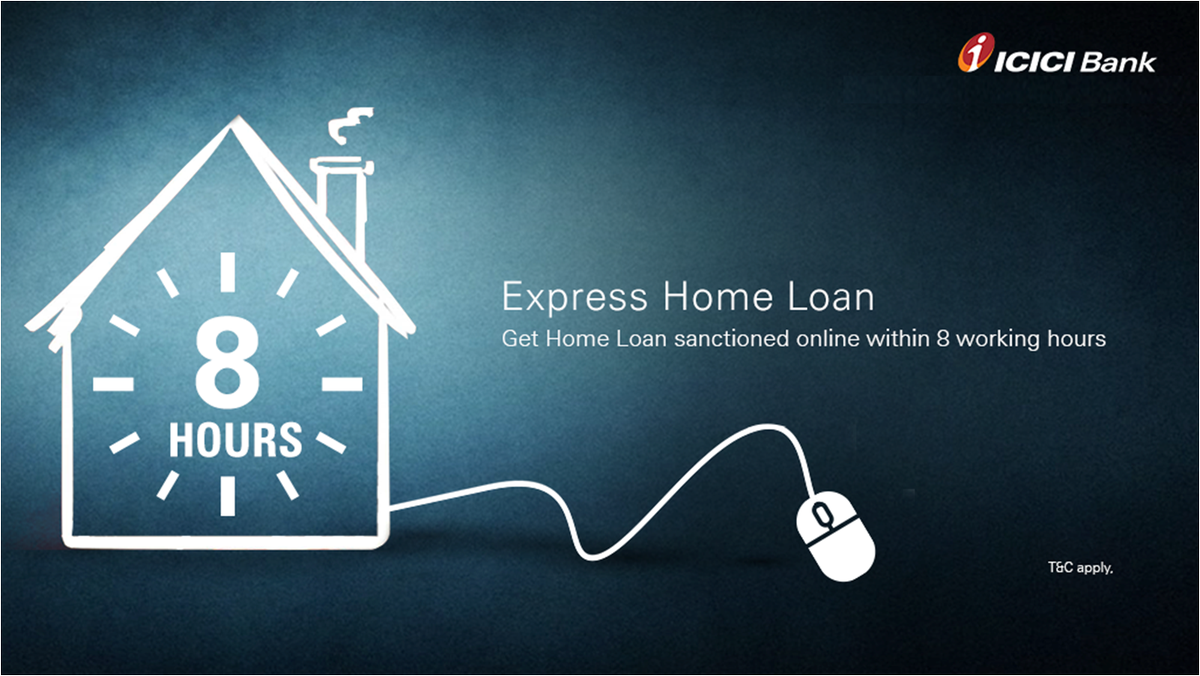 Benefits Of Express Home Loan
Quick home loan approvals – approvals within 8 working hours once complete documents are uploaded.
No physical pickup of documents before case approval.
The customer receives a 'sanction letter' as against an 'offer letter' which is issued by competition.
ICICI Bank's Express Home Loan enables quick and easy home loan sanctioned online. It is the easiest way to get home loan for both salaried and self-employed. The loan applicant need not visit the branch or the sales executives to get his home loan sanctioned. By simply applying online, providing basic details, filling the ICICI Bank home loan application form and by uploading the documents required for home loan i.e. the KYC & income documents the loan applicant can generate ICICI home loan sanction letter online which will be the provisional sanction letter. (Additional Read: How To Read Home Loan Sanction Letter Of Bank.)
Details of Express Home Loan
Eligible Profile: All applicants residing in India.
Maximum Loan Amount: 3Crores.
Maximum Tenure: Up-to 30 years. (Tenure is subject to the age of the applicant. The applicable tenure for the applicant will be displayed online while availing of loan sanction.)
Processing Fees & Charges: Flat processing fee of Rs 3,100/- at time of sanction. For disbursement, normal fees will be collected for property and other checks which includes administration charge of Rs 5,900/-. Processing fee chargeable will be displayed online to the applicant while availing of sanction.
(Additional Read: Must Know all Costs In Home Loan)
Home Loan Interest Rate: Starts from 6.95%*p.a. (Home Loan Rates are dependent on parameters such as CIBIL score, loan amount, etc. The housing loan interest rates will be displayed online to the applicant when availing of the offer.)
Sanction Validity: The home loan sanction letter availed by applying online housing loan through ICICI home loan online apply is valid for 6 months.
Financial Parameters For Loan Approvals: Credit bureau checks, salary credits, average bank balances, monthly obligations, income credits from other sources, etc.
Documents of both applicant and co-applicant must be uploaded online to apply for instant home loan. ICICI Bank Credit Manager will assess the submitted application & documents and will thereby approve the loan appropriately. The applicant has to submit the following documents:
Passport size color photograph of all applicants.
KYC Documents- Pan card, Aadhar card, residential proof (electricity bill/passport copy/landline bill/gas bill).
Income Documents – (a) Salaried – 4 months Salary Slips, 6 months Bank Account Statement, 2 years Form 16. (b) Self-employed – CA certified copies of 3 years ITR with Saral Copy, Balance Sheet, P&L Account, Capital Account.
Bank Statement – 12 months.
Signature Verification Document.
(Note: Income documents to be uploaded of only those applicants whose income is being considered for sanctioning the loan.)
Check your home loan eligibility online with the help of Loanfasttrack's EMI Calculator before you apply home loan online.
ICICI Bank is the easiest bank to get home loan sanctioned within 8 working hours with its online home loan application process. Know the complete step by step process to apply housing loan online with ICICI Bank through its official channel partner "Loanfasttrack". Loanfasttrack is a Mumbai based loan provider company since 2015 offering loan services in Mumbai.
Services Offered By Loanfattrack Includes – Housing Loan In Mumbai, Mortgage Loan In Mumbai, Personal Loan In Mumbai, Business Loan In Mumbai, Unsecured Business Loans,Home Loan Transfer, Top-up Loans, Car Loans, Educational Loans And Loan Transfers.
Loanfasttrack is a direct sales associate with leading banks namely, ICICI Bank, HDFC Ltd, Canara Bank, Citi Bank, Piramal Housing Finance, etc.
Visit www.loanfasttrack.com.
Seek expert advice on 9321020476.
You can also email on info@loanfasttrack.com.
Our specialized services include providing:
Additional Read: